Well it happened again. On a beautiful 16-19 of April 1999, The Nieuport 12 Eagles landed at Rick Giles' place in Freeport, IL.Tracy Thompson made it from California and the Canadian Gang of Three also showed up to make it a coast to coast event. On Sunday all of us came down to our shop and toasted Ted Horlick. Next year we plan to head to Rob Russell's place in Canada and really party!

| | | |
| --- | --- | --- |
| Attendees: Lincoln Holme,Hugh Trusty,Rob Russell,Tracy Thompson,Jeff Bell,and Rick Giles | Butch tries to fit his backside in Rick's plane | A smilin' Butch(front side in case you couldn't tell) |
| | | |
| --- | --- | --- |
| Butch and Rick finally take off...how long was that runway? | Hugh and Tracy examine the tail of Rick's N12 while Jeff inspects those huge, not to scale, wheels | Tracy fancies a flight over the Front in Rick's next project |
| | | |
| --- | --- | --- |
| Rob Russell and Rick serve as ground crew for Tracy's flight | Joanie Foutch,"Gone West". She flew a P51, Vultee BT13, and a Hot Air Balloon. Seen here with hubby Mark, as they embarked on their cross country honeymoon in the Stearman. a friend and inspiration, she will be missed. | Rob,Jeff, Rick, Butch, and Tracy. With Lincoln and Walt in our shop in "da Heights" |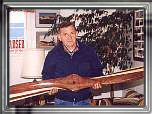 The PROP GUY!! Ted Lambasio, with our beautiful walnut and maple prop.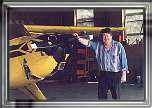 Jim "The Mole" Mordal and his 1940 Luscombe 8. Thanks for the airtime Jim, hope you recovered from my landing!